1Huddle strongly supports the Flexibility for Workers Education Act (H.R. 7365), which would expand career advancement opportunities for workers by modernizing current law to allow companies to offer voluntary upskilling and educational opportunities to employees.
Background
Under current law, employer-provided training, upskilling, and educational opportunities for workers often count toward hours worked, even if offered as a voluntary benefit outside of regular business hours.
A dated regulation that hasn't been updated since it was enacted in the 1960s blocks workers from gaining new opportunities that their employers are willing to offer at no cost to the worker.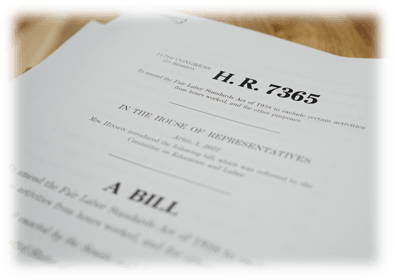 Example: Under current law, a restaurant owner cannot offer to pay for a mixology app or bartending class for a busboy who wants to become a bartender without also paying hourly wages to that employee for taking the voluntary class outside of work, thus disincentivizing employers from offering the opportunities at all.
These voluntary options should be treated as the educational benefits they are, not as added labor demands. This restricts upward mobility and stifles workers' growth potential.
Federal labor laws should support opportunities for workers, not hinder them. Recent surveys show 93% of small business owners hiring reported few or no qualified applicants for open positions. Congress should act to make it easier for workers to have more opportunities and for employers to find qualified candidates.
About the Flexibility for Workers Education Act
The Flexibility for Workers Education Act, which was introduced by Rep. Ashley Hinson (R-IA), would modify the Fair Labor Standards Act to allow businesses to offer voluntary growth and development opportunities related to the employee's job outside of work hours and without counting towards hours worked.
The legislation supports workers by allowing access to innovative skills development tools and education options – such as 1Huddle – which, in turn, leads to career growth by helping workers excel in their current position and ultimately move up within their company.
This fall, Senator Ted Budd (R-NC) introduced the Flexibility for Workers Education Act (S. 2878) to the U.S. Senate. The bill is also sponsored by Senators Mike Braun (R-IN) and Roger Marshall (R-KS).
Cosponsors: H.R.7365 + S.2878 — 117th Congress (2021-2022)
---
MEET 1Huddle
See why top brands across the globe trust 1Huddle to onboard, upskill, and fire-up their workforce!